The Blue Star Families is a non-partisan, non-sectarian, non-profit and multi-racial support group. Our mission is the following:
Support fellow Blue Star members and their friends and family members who are serving or who have served in the Armed Forces of the United States of America
Share educational information to benefit the members and their families
Support our military personnel through various service activities
Support Veteran Organizations, activities and events
Promote causes that will benefit military personnel through a Military Advocacy Program
To join the Blue Star Mothers of America, click here to fill out the online application. Our chapter designation is VA1.
<![if !vml]>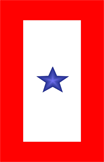 <![endif]>
The Blue Star Flag is the official symbol authorized by the Department of Defense to designate a family member serving in the Armed Forces of the United States.
Blue Star Families of Central Virginia was formed in the early spring of 2003 as a result of Operation Iraqi Freedom. One Army Ranger mom, Joanne Cochran, had recently moved to Charlottesville, Virginia from California. Joanne was familiar with a Blue Star Mothers organization in the Bay Area. Out of her need for strength and support from other military families, she started searching for military support groups and found none in our area. So, she decided to start her own. A small group of five mothers gathered at a local restaurant to plan and finance our fledgling organization. They wrote personal checks to purchase items for our initial care package mailings.
Since that time, the group has steadily grown to over 50 families. Our membership includes families with loved ones serving in the Army, Navy, Marines, Air Force, Coast Guard, as well as civilians employed at the National Ground Intelligence Center. We conduct monthly casual meetings with most of our time devoted to sharing stories and information about our service members, their work and taskings. We discuss what we have learned about the military such as:
What to expect when your son/daughter graduates boot camp,
Places to stay when visiting military installations, How long you will get to see your loved one, etc.
Also, when they are deployed, we share: What we have learned about sending packages, When to expect a phone call, How to send mail, etc. On occasion we have guest speakers addressing issues of concern. We learn so much and find tremendous support and understanding from each other.